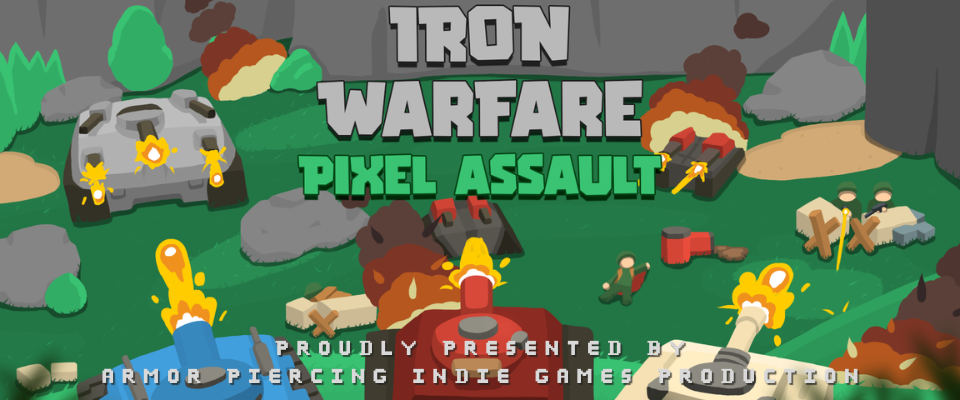 Iron Warfare Pixel Assault
A downloadable game for Windows
Featuring amazing 2D graphics, Iron Warfare Pixel Assault is a top-down, 2D tank game. You will engage in combat with difficult enemy bosses, tanks, turrets, and troops. Fortunately, there are several pickups along the way to support you. It will speed up your tank, increase your health, or give you extra ammo to obliterate your opponents.
Your mind will be completely blown by this 2D tank game. It's intended to make you feel nostalgic. You'll come into confrontation with pick-up vehicles, tanks, and machine gun turrets. Oh, and please don't forget that more levels will be added for free the more downloads and reviews there are.
Features:
💥 DESTROY! - Destroy enemies with the force of your main cannon!
💪 UPGRADE! - Upgrade yourself with speed, armor, and armament!
🗺️ ADVENTURE! - Roll out in your favorite tank and collect war loot!
😈 BEAT THE BIG BOSSES - Challenging final bosses for you to defeat at the end!
🕹️ 2D STYLE - Simple and clear graphics that work well in 2d.
🥊 FIGHT YOUR WAY TO THE END - You will need to conquer the level to progress.
🎖️ What are you waiting for? Soldier, immediately engage your adversaries.
Download
Download
Iron Warfare Pixel Assault
86 MB
Comments
Log in with itch.io to leave a comment.
We kindly request everyone to fill out these feedback forms, for those who played our Beta release a few days ago. There are two feedback forms available for both English & Myanmar languages, so please feel free to provide feedback on the one that is appropriate to you and submit it afterward. It will be very helpful to us and we appreciate your feedback!
Myanmar Version: https://forms.gle/ZqAU6QJmhiqXbs9f8

English Version: https://forms.gle/5amZ4yxxYfsyt5Qq8